How to Estimate Auto Repair Costs After an Accident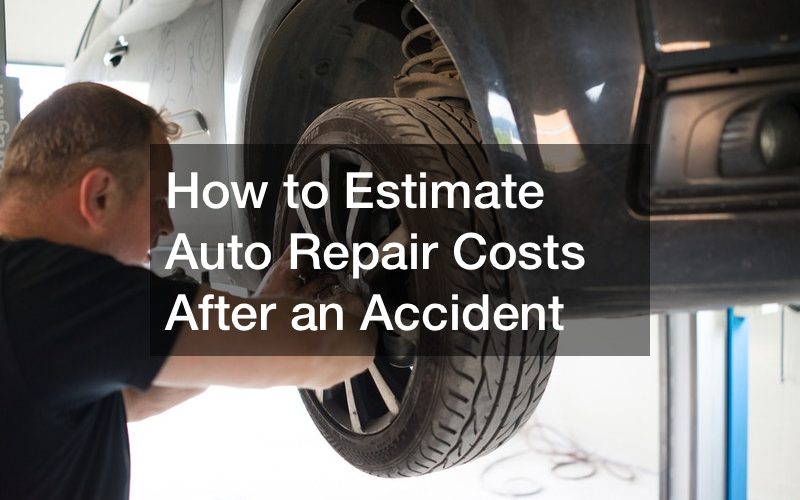 According to the Bureau of Labor Statistics, an accident occurs every 13 minutes. Getting a handle on the unprecedented and unknown costs of repair after an accident is stressful but manageable. You can get your car back on the road, and the amount you pay will depend on a couple of factors, including the type of vehicle (make and model,) the extent of damage, technology features of the vehicle, and the auto repair shop you go to. In this article, we'll be discussing how to estimate auto repair costs after an accident:
Consider the Type of Accident
The type of collision you get into could be a factor in determining how to estimate auto repair costs. There are many vital car components at the front of the car than in the rear, so you can anticipate the repair costs to be heavier there than in a rear-end collision. In general, the types of impact include; head-on collisions, rear-end collisions, side-impact accidents, chain reactions (multiple cars colliding in a domino-like effect,) and rollovers. Side impact collisions can be either sideswipes or the classic T-bone.
Most Common Collisions
According to the National Safety Council (NSC), 72.4% (8,200,000) of crashes in 2020 were crashes involving another motor vehicle (107,000 were a trucking accident resulting in injury.) 19.2% involved an inanimate object. Their data goes on to show that you are more likely to be involved in a rear-end collision.
In 2020, this was the distribution for all types of crashes:
41.6% (3,410,000) were rear-end collisions (responsible for the most injuries after angle collisions)
35.4% (2,900,000) were angle collisions (responsible for the most deaths and the most injuries)
19.9% (1,630,000) were sideswipes and other two vehicle collisions
3.2% (260,000) were head-on collisions
In a front-end collision, you could incur body and frame damage, steering and driving systems damage, and if the impact was serious, you could be looking at damage to your engine or transmission. Rear-end collisions can cause damage to the trunk, bumper, backlighting, and wheels. Side or angle impacts can leave you with damaged door panels, bent wheels, and frame damage. The most common types of damage happen to the front and rear bumpers, doors, windshields, and paint.
Repair Cost Estimates
According to LendingTree, here are some of the costs you can expect to incur for cosmetic damages:
Bumper Repair or Replacement andndash; You can expect to pay anything from $300 to $1,500 or more for both parts and labor. The bumpers of modern cars may contain sensors and cameras, and these features will considerably increase the replacement costs. Even if they aren't damaged, they will have to be removed and reassembled, which adds to the labor costs.
Windshield Replacement andndash; An epoxy repair kit may fix a small coin-sized dent or a 3-inch crack. However, a larger issue may need professional products or a complete replacement. An aftermarket windshield can cost you around $250, but if your car needs a specific type of glass, the costs can go as high as $1,000 or more.
Door Repair or Replacement andndash; You can incur a bill of $50 to $1,000 or more. According to Insurance Panda, the costs can reach $2,000. A minor dent can be easily repaired, but the costs will also ramp up if the wiring and other tech inside the door are damaged. If a replacement is needed, both the car door shell and interior door may need to be purchased.
Paint Repair andndash; The cost will range from $500 to $2,500 or more if your car requires special paints. Note that the cost will be lower if you are only painting the damaged parts of the car. The cost of painting may also be folded into other types of repair.
Quarter Panel Replacement andndash; According to Jerry Insurance, a corner panel replacement can cost you between $500 and $1500, depending on whether you use aftermarket or original manufacturer parts. The costs will be much lower if it's a minor repair that can be buffed out without replacement.
Suspension Replacement – According to Insurance.com, suspension damage that requires replacement can get up to $5,000. However, if it's certain parts of the suspension that require replacement, here are the estimates:
Shock absorber/strut replacement – $488 – $597
Wheel alignment – $115 – $302
Ball joint replacement – $225 -$285
If the damage to your car affects its drivability, the bills can be extremely expensive. Mechanical damage can cost you upwards of $4,000. For a car that cannot move, estimates can start from as high as $6,000. The hours and expertise required to restore such a vehicle may make it such that you may have to consider the car a total loss. Your insurance may think so too if the car's value is less than the estimated repair cost. After any accident, you'll want to contact a car accident lawyer as they can help you get the compensation you are owed.
Consider How Your Vehicle Will Be Moved
To repair your car, you have the choice of taking your car to a dealership, independent body shop, or mobile service. Typically, dealerships will charge the most. Before picking an auto shop, consider using repair cost estimator tools to get an idea of how much the repairs will cost. But these will just be estimates, and you may get very different quotes at the auto repair shops. The other option is to go with the shop that your insurance recommends, which may carry with it the benefit of a discount or warranty.
However, even before you ponder how to estimate auto repair costs, you have the question of how you will get the car to the auto repair shop. But first, ensure you have taken the correct steps, i.e., calling the police, photographing the scene of the accident if it is safe to do so, gathering insurance and contact information, and calling your insurance company and/or car accident lawyer. Calling your insurance may help you with emergency towing and vehicle storage fees if your policy covers it. The car or motorcycle towing service can then transport your auto to a place of your choosing, such as an auto repair shop or an insurance-approved location.
Before the vehicle is towed, remove all personal belongings as it may be a while before you are reunited with your car. If the vehicle is drivable, you may be allowed to drive it from the scene. If the police think it's unsafe, the police may ask you to call a towing service, or they will call one and move it to a storage lot. You will have to arrange for a towing service from there, and the faster you do it, the better; because storage lots have fees. Before you hand over your car, ask the tow truck driver for all relevant information.
If you haven't specified a destination, ask where their lot is.
The cost of the tow and any additional fees
Invoice/receipt documentation before handing over the car
Be careful to only deal with the tow truck driver called to the scene. There are bandit tow trucks that move your car to a storage lot only to charge you exorbitant fees for your vehicle's release. Also, ensure that the police get there before the vehicle is towed so they can write up a report on the accident's details, including the damage's extent.
Consider If the Mechanic Knows Your Vehicle's Make and Model
In deciding how to estimate auto repair costs, you must pick an auto repair shop with the knowledge to handle your vehicle. The shops specializing in your vehicle's make and model are more likely to have the equipment, up-to-date knowledge, training, and expertise to fix your vehicle. If your vehicle is an Audi, take it to an Audi mechanic. Ask the auto shop to show you their National Institute for Automotive Service Excellence (ASE), which requires that repair technicians be retested every five years.
If you don't know any good auto repair shops, ask friends and family or search online for an 'auto repair shop near me.' Browse online reviews and check with the Better Business Bureau to get a well-regarded shop. If they run a reputable operation, they should have no problem offering warranties on the repair work they do. Remember that you can take your car to a dealership, e.g., a Yamaha dealership for your motorcycle. They have certified mechanics trained by the manufacturer, advanced diagnostic equipment, and they use OEM replacement parts. On the other hand, they are more expensive, and therefore, a repair automotive motorsports shop may be a better option for you when considering how to estimate auto repair costs.
Consider the Possible Small Repairs
Some repair costs may be bundled up with larger repairs. For example, fixing a dent in your car door may include painting costs or auto paint protection. When it comes to how to estimate auto repair costs after an accident, it's best to let a professional do it. You may look at your car and consider it drivable, but it may be hiding damages that could be dangerous. Ensure your car isn't swerving to one side, as this could mean it needs a wheel alignment. All your lights should also be working. If your mirrors aren't in place, you could receive a ticket. Also, ensure that the hood can lock because if the hood were to pop up while driving, you would be obstructed. If the locks don't work, call an automotive locksmith.
Consider If the Cost Is Too Much
This is very important when deciding how to estimate auto repair costs. If the damage is too great, then the costs to repair will be just as high, and it may be better to sell my car for cash. For a decent and reliable used car, you can expect to pay a minimum of $2,500. According to Edmunds and Consumer Reports, if the repair costs exceed the car's value or a year's worth of monthly payments for a replacement car, the car should be counted as a loss. You should also consider getting a replacement if your vehicle starts to break down often, making you feel unsafe while driving. The other benefit associated with getting a new car instead of wondering how to estimate auto repair costs is that you may gain fuel efficiency and warranties plus maintenance. Your new car will also be more reliable.
However, a new car depreciates very quickly, losing about 20% of its value in the first year and about 50% in three years. However, repairs are almost always the better choice. There is also insurance that can cover your repairs if your policy covers collision. You may also get your car repaired if the other party in the accident has the insurance to cover the damages. However, using your insurance will require that you pay a deductible before they can step in to cover the additional charges. There is also the risk that your premiums will rise. According to Insurance.com, the average rise in premiums is 10% to 40% for a first-at-fault accident. To avoid this, it is advisable to pay out of pocket for the repairs you can afford and only make claims for the major repairs. Over the years, this will help keep your premiums down.
How to estimate auto repair costs is not an easy question. It requires that you do your due diligence to find out more about an auto repair shop. It's also not enough to get estimates from just one auto shop. Visit multiple auto shops to get repair estimates, which will help you get a better and more fair deal. If you need assistance on how to estimate auto repair costs, contact us today.