How Auto Accident Victims Responded to Their Accident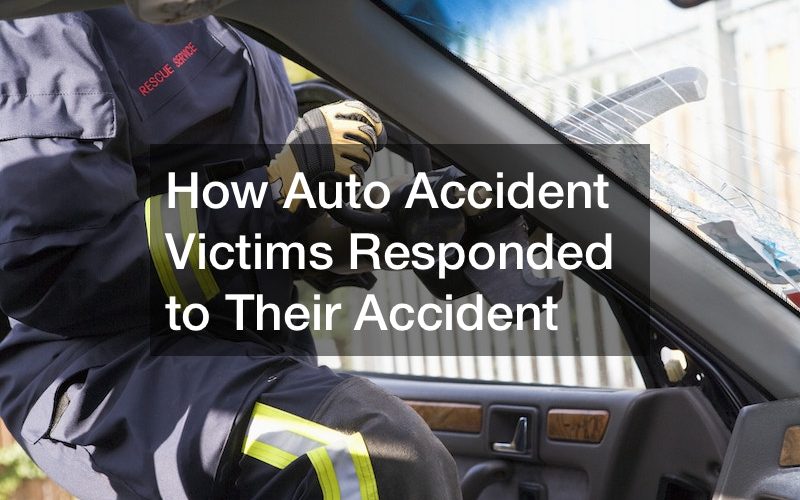 Auto accident victims have different experiences after an accident. However, there are some things that every auto accident victim will experience. Auto accidents can impact every area of your life. It can impact your job, home, and social life. It can impact finances, your future, and more. Here are some of the experiences that auto accident victims may have to deal with after an accident.
Financial Assistance
Undoubtedly, auto accident victims often feel the financial pinch after an auto accident. Auto insurance may cover most of the costs of the accident, including property damage and medical care, but what they don't cover immediately is your cost of living. You may recoup the financial losses because of the accident down the road, but in the immediate, finances may become very tight.
One of the chief experience complaints of auto accident victims after an accident is concerning meeting monthly bills while they are recovering from the accident. Unless you have disability insurance through your employer, you will feel the financial pinch after an auto accident. Finding the money to manage your bills after an auto accident can be stressful.
Many people wind up tapping into their savings or depending on credit cards to pay monthly bills. Some people turn to family and friends for help during this period. On average it takes about one year to settle an accident injury claim. For many auto accident victims that year is one rife with financial problems.
Rebuilding from Wreckage
For many auto accident victims, they experience the loss of property or serious property damage. The vehicle that was involved in the accident winds up as a total loss at the auto salvage center. Many auto accident victims don't know that if their vehicle is determined to be a total loss, they can buy back their vehicle from the insurance company and make the repairs on their own.
It is a process to rescue your vehicle from salvage, but for many accident victims, it is a process they are willing to undertake to get their vehicle back. There are many things to consider before jumping in and fighting to get your vehicle back. For example, if you suffered personal injuries, do you have the time between doctor's appointments and healing to deal with getting the car back?
Many accident victims choose to let the car go and purchase a new one. It is the easiest route to take. An auto accident can have many repercussions. Figuring out how you will rebuild your life from the wreckage is one of them. Every auto accident victim must deal with making decisions they don't necessarily want to deal with. Many victims get support from their family and friends; most will hire a lawyer to help them navigate decision-making.
Restoring Use
Some auto accident victims are adamant about restoring their vehicles after an accident. They will buy back the vehicle from the insurance company and put the work in to restore it to like new condition. In many cases, the car repairs are extensive, but with the right support, the vehicle can be returned to like-new condition. However, there is a process to get the car back on the road.
Repairing the vehicle has to be done to certain specifications so that it can pass a motor vehicle inspection. The Department of Motor Vehicles has inspectors that evaluate vehicles for safety for them to return to the road. If the vehicle can't pass the inspection, it can't be licensed for driving. In other cases, the repairs are minor and cosmetic.
When repairs are minor or cosmetic there is no need for a motor vehicle safety inspection. However, the vehicle should be checked out completely to ensure roadworthiness. Most accidents find that they never want to risk another accident by driving an unsafe vehicle. The memory of an accident is hard to shake. It is important that you are reassured that your vehicle is safe.
Restoring Privacy
For many auto accident victims, getting back out into the world is a transition time. They want to reenter society slowly. Window tint service for their vehicles has become very important. They want to feel safe and maintain their privacy while they are driving around. Of course, the privacy factor extends beyond driving.
Most victims don't want to discuss the accident repeatedly because then they are forced to relive it. Additionally, they prefer if people don't ask about potential settlements and how much they will "make" off the accident. Accidents are never joyous memories that people like to relive they want to keep details of the accident, the potential settlement, and their attorney information private.
Many times an attorney will advise the accident victim not to discuss the details of the accident with anyone. Restoring and maintaining privacy after an accident is often necessary to protect the outcome of the accident claim. Every accident victim has a different perspective on privacy after an accident; everyone's personal preference should be respected.
Expert Repairs
Auto repair service is typically a part of the auto accident experience. However, not all auto repair services offer the same level of quality. For accident victims that do not get the best level of auto service care their experience after an accident is very different from those that do. It is essential that anyone that has been in an auto accident takes their vehicle for repairs to a trusted provider that is known for delivering the best in service.
The right mechanic will be familiar with managing vehicles that have been in an auto accident. They will know what to look for in the way of hidden safety issues that need to be addressed. Unfortunately, in many cases, surface damage is only the tip of the iceberg when it comes to damage. There can be underlying damage that causes a safety issue that needs to be addressed.
Top-notch repair care is essential in ensuring the safety of the vehicle. A patch job that makes the vehicle good enough to get on the road will fail over time and can become a safety hazard to the driver and other vehicles on the road. You may have to pay a little more for the best repairs but most accident victims agree that it is worth the additional investment. Those victims that didn't opt for better-quality repairs had the worst experiences.
Touch Of Personalization
Some auto accident victims make the best of the situation by upgrading their vehicles with car wrap after the accident. Once the repairs are out of the way, some victims decide to make their car better than ever by using car wraps to customize their vehicles. Car wraps are completely removable yet durable and can deliver customizations for less.
Finding the silver lining after an auto accident can be difficult but knowing that you are going to have a better-than-ever-looking vehicle can make things better. Many accident victims feel like customizing their vehicle after the accident is a great way to celebrate the milestone of putting the accident behind them. Other victims choose car wrapping over a paint job that may have been necessary because of the accident.
It's important that you do things to make yourself feel better after an accident. Car wraps can transform your vehicle into a one-of-a-kind ride that you are excited to get behind the wheel in again. Some victims experience a newfound fear of driving after an accident, car wrapping and customizing your car can quell some of the fears and get you excited about driving again. Everybody's experience is different, look for the silver lining opportunities to make your experience better.
Legal Advocacy
While experiences are different for auto accident victims most agree that you need to hire a personal injury lawyer. Both accident victims that had a lawyer and those that didn't can agree that having someone in your corner to navigate the claim is essential to the success of the claim. A personal injury law firm is the group you want on your side.
There are a lot of working parts to a personal injury case that can take legal expertise to navigate. The insurance adjuster is not on your side, your lawyer is. The insurance adjuster can make it very difficult for you to get the compensation that you deserve for the accident. A lawyer puts your best interests first.
Additionally a personal injury lawyer will provide you the advice and guidance you need to support your claim. They can help to reduce the stress that is associated with navigating the process. It is important, according to most accident victims, that you have someone advocating for you.
Legal Advocacy
The need for legal advocacy is not only essential to navigate your personal injury claim, but you will need an attorney to navigate the entirety of the accident claim. According to auto accident victims, it is essential that you have accident attorneys with experience that can manage every part of your accident claim.
If you live in an at-fault state and have been charged in the accident, not having the legal support that you need can really affect the experience of the accident and the aftermath of the accident. It is essential that you have proper representation to manage the case. An accident attorney with experience can protect your rights and defend you.
You can improve the experience you have after an accident by hiring a trusted lawyer with a winning track record. Most accident lawyers don't charge you out of pocket, they work on contingency, when you get paid by the auto insurance company, they get paid. Essentially you can hire a lawyer without any charge to you.
Clear View
Auto accidents often occur because of driver fault, but sometimes they occur because of equipment failure. Some accident victims can pinpoint the cause of the accident to a faulty windshield. Cracks and chips can impede the vision of the driver. Avoiding an auto accident altogether by ensuring that auto glass repairs are made as necessary is the best way to avoid negative experiences after an auto accident.
Windshield replacement and repairs are some of the most common auto repairs, especially following an accident. Auto glass is an essential element of any vehicle's structure, once it is compromised, repairs are necessary to restore safe operation. Making repairs to auto glass is a great way to prevent accidents that are caused by visual impairments.
Many insurance companies will cover the cost of auto glass repair or replacement. In most cases, it is always covered after an accident. If your vehicle needs auto glass repair or replacement it is essential that you have the work done or you risk having your own accident victim experience.
Debris Removal
Depending on the nature of the accident and where it occurred, and the state you live in, you may be responsible for debris removal at the accident site. Material hauling companies can manage the clean-up for you. Most municipalities have agreements in place with hauling companies to remove wreck debris from the roads and sidewalks. However, you may be responsible for the cleanup if an accident happens on your property.
For example, you are pulling out of your driveway and the accident happens within ten feet of your property line, or you are in a parking lot that you own when the accident occurs. For some accident victims, the experience included having to deal with clean-up worries. There is no good way to prepare for what might come from an auto accident. There will be a lot of fallout to deal with.
The best way to navigate the experience is to keep your head up, hire a good lawyer, and lean on friends and family to get through the experience. The good news is that you are here, and you can get through the process.